Inwood Art Works proudly announces the programming for its sixth annual Inwood Film Festival, to be held at Columbia University's Campbell Sports Center in Inwood from May 25th-28th, 2023. The festival includes 27 films, including 17 world premieres, along with seminars, post-show conversations with filmmakers, and plenty of special events. Details of the screenings and all the films are listed below.
The festival includes a special Opening Night Benefit on Thursday, May 25th, at 6.30pm, featuring a special feature presentation of award winning film, The Whale, followed by an in-person interview with screenwriter Samuel D. Hunter by Inwood Art Works' Founder and Executive Producer, Aaron Simms. Delicious food and beverages will be provided by Amores Café and Dyckman Beer Company (and beer from Inwood will be the topic of our finale feature presentation on Sunday).
Before and after the festival screenings, ticket holders can mingle in The Red-Carpet Community Room, a hip hub to connect filmmakers and audiences that is for the exclusive use of all Inwood Film Festival ticketed patrons before and after each screening. Enjoy a glass of wine or a Dyckman Beer and come to connect with neighbors before the show, stay afterward to discuss the films, meet like-minded folk, and hob-nob with local movers n' shakers.
After the last screenings on each day there will be conversation with some of the day's filmmakers. Following the final post-screening discussion, at approximately 5pm on Sunday, join us in the theater for the announcement of the Inwood Film Festival's Annual Awards for Excellence in Filmmaking.
On both Friday & Saturday evenings you can join filmmakers, film aficionados, and the Inwood Art Works team to raise a glass to our Inwood community and its vibrant arts scene in the Red Carpet Community Room. And on Sunday after the awards ceremony you can join us for a Festival after party at Tubby Hook Tavern (4946 Broadway).
Once again we'll also be hosting IFF+, a special online extension of the Film Festival running from Sunday May 28th through Sunday June 4th that will include all the Film Festival programming. Our goal for IFF+ is to provide an alternative digital platform that celebrates, showcases, and enhances accessibility to the films of our fantastic local artists.
The Inwood Film Festival is supported, in part, by public funds from the New York City Department of Cultural Affairs in partnership with the City Council. Inwood Film Festival is made possible by the New York State Council on the Arts with the support of Governor Kathy Hochul and the New York State Legislature. This program is funded in part by The Medical Center Neighborhood Fund

Thanks to these organizations and all our local sponsors
Tickets and Location
Friday Program
Long Shorts: Documentary Portraits | Friday, 7:05pm
(40 minutes total screening time)
The Last Movie Theatre in Washington Heights, directed by Anthony Rojas
A magical-realist documentary about the RKO Coliseum Cinema, a 100-year-old theater that now only exists in the collective memory of its movie-goers.
Scrawn, directed by Samuel Harrison Crow
A short documentary about baby pigeons growing up in the wild – which here means a fire escape in Washington Heights, NYC. Ever seen a baby pigeon before?
Takashi Harada, directed by Carter Joseph Maggipinto
A short introduction to the artistic process of painter Takashi Harada.
Lost Inwood Panoramas: Tubby Hook's Boathouse Row, directed by Don Rice
Using vintage panoramic and aerial photographs we tell the story of the boathouses and canoe clubs which used to exist along the Hudson River shore at Tubby Hook, just below Dyckman Street in NYC. In the 1900s as many as six recreational and competitive boating clubs lined the shoreline there, as well as a car ferry to New Jersey. Today only one remains.
Long Shorts: The Power of Acceptance | Friday, 8:35pm
Featuring films that received grants from the Inwood Film Festival Filmmaker Fund (71 minutes total screening time). Post-screening filmmaker conversation and reception featuring Inwood Filmmaker Fund grantees immediately following.
Secadora, directed by Elyssa Aquino
A short film that explores sex and identity in the Dominican culture.
Night of Their Break-up, directed by Carlos Deschamps
On a weekend night, Ariel finds himself comforting Luna, his best friend's girlfriend. After their sudden break-up, Ariel and Luna try to figure out the reasoning behind it.
Giant, directed by Dylan S. Tuccillo
Maddie moves to a small town to escape the reality of her dying father. Unable to sleep, she goes on a walk in the early morning hours, when she discovers a man who can transform himself into a thirty foot giant.
I Am Poem, directed by Maite Bonilla
Carlito, a sensitive but courageous young boy comes to terms with his gender identity and defies his heartless mother in hopes of her acceptance.
Saturday Program
Seminar: Budgeting, or Telling Story of your Film through Numbers
Saturday, 12:05pm (free). Appropriate for beginners and professionals.
Before you make your movie, you need make a budget! Do you know how to tell the story of your film through numbers? Join Founder and Executive Producer of Inwood Art Works, Aaron Simms, as he shares the essential financial considerations all filmmakers need to account for before they shoot their first frame.
1.5 Million | Feature Film | Saturday, 1:35pm
(107 minutes, plus a special post-screening conversation with filmmaker Gregory Hernandez)
Directed by Gregory Hernandez
A documentary highlighting the literacy crisis within the poorest congressional district of the nation that resides in the South Bronx.
Seminar: Contracts for the Indie Creator
Saturday, 4:00-4:45pm (free).
Learn about the different entertainment low budget agreements SAG-AFTRA offers to empower you to make your film. Members of the SAG-AFTRA New York Local, including Actor/Writer/Producer, Sarah Seeds (& SAG AFTRA NY Board Member & TV Academy Member) offer their expertise in everything including contracts, budgeting, and creation. Q&A to follow.
Short Shorts | Saturday, 7:00pm
(45 minutes total screening time, plus post-screening conversation with filmmakers)
T-Bone, directed by Alison Loeb
One man's pointed refusal to "go gentle into that good night."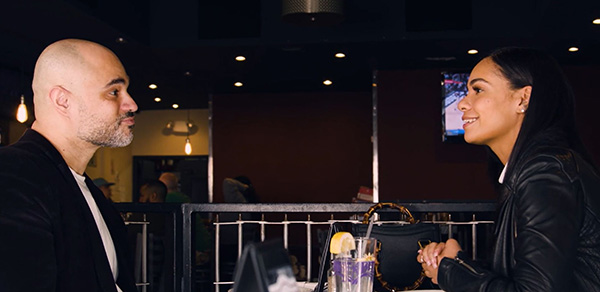 My Date with a Millennial, directed by Carlos Lample
A recently divorced Gen-Xer goes on a date with a Millennial.
Ava, directed by Nicolle Marquez
Ava taps into a parallel reality as they strip down their masquerade.
La Thespian, directed by Marianne Ferrari
A day in the life of a NY actress in the Covid Era as written by Christopher D. White.
Santa Force, directed by David Zayas Jr.
Santa Force: We See You When You're Sleeping, We Know When You're Awake.
Coney Island Surprise, directed by Chris Marcantel
Harold and Maude meets The Odd Couple. When Miriam, a feisty, cantankerous, foul-mouthed old lady falls on one of Sean's Broadway Theater Tours, he has to accompany her to Bellevue where he learns all about her life and secrets. When the day is over Miriam declares she is moving back to New York and into Sean's large Inwood apartment where she takes over his life.
Check YES!, directed by Luciannys Camacho
In a world where 8 in 10 of the population has some kind of superpower, being a hero is now a viable career. In bustling Inwood, Reineldis De La Cruz is a high school senior who has dreams of being a hero. Giselle, her mother, is overbearing and causes Reineldis to have no confidence in her abilities despite her best friend Javier's encouragement. Giselle has no intentions on letting her attend the hero training academy after graduation either.
Things change one afternoon during a trip to the salon.
There's Something in the Silence, directed by Mike Castro
Erin's new hearing aids have been picking up voices and sounds she's unable to explain. In an attempt to quiet the voices, she confronts them head on– only to find there may be something more sinister lurking in the depths of silence.
Long Shorts – Lost & Found | Saturday, 8:15pm
(65 minutes total screening time, plus post-screening conversation with filmmakers)
The Book of Ruth, directed by Becca Roth
An extraordinary "what might have been" tale, centered around a deep-seated family secret that finally comes to the surface. This is a poignant story that touches on family history, our memories of the past, denying what once was, and ultimately, accepting our true selves.
Little Mouse, directed by Lena Kaminsky
A woman navigates a complicated and unexpected relationship with a mouse in her house.
Patricia Says Goodbye, directed by Colin Alistair Campbell
Patricia Pearson, retired doyenne of the New York stage, finds her routine morning dog walk turn into something far more profound. A series of chance encounters forces her to confront a painful personal loss, and with it the beauty and transience of life itself.
Still Here, directed by Kaye Tuckerman
An original musical short film chronicling the intimate struggles of Nathan, a middle-aged widow, on the two-year anniversary of his wife's passing. Reluctantly persuaded into a friends-night-out at one of their old New York City haunts, Nathan finds himself a stranger in a world where "swiping culture" dominates meaningful connection. When his friends well-intentioned frivolity stirs up visions of what once was, Nathan is caught between the desire to move on and the pervading sense he's been left behind.
Sunday Program
Long Shorts: An Exercise in Democracy | Short films under 25 minutes | Sunday, 1:05pm
(54 minutes total screening time, plus special post-screening conversation with filmmakers)
Entre Guerra y Guerra, Afuera La Bicicleta, directed by Valeria A Avina
Roque has been asked to take care of Tala's garden over the weekend, when suddenly Tala's garden is taken over by other kids who are new in the block. Roque en Los Pecosos embark a journey to get Tala's garden back before she comes back.
Sleep, directed by A.M. Massey
A disgruntled, insomniac chooses a dark path to clean up the city.
Lady Bogey, directed by Alison Midstokke and Antonio LaGamba
A scarred heroine hunts down skillful criminals makes a revival from her ghastly past that disfigured her appearance and disrupted her life. She hunts down a marauding crook for revenge. He he will meet his fate from Lady Bogey.
Urania Leilus, directed by Andrew Serban
A young female journalist is subjected to death threats and intimidation after witnessing human rights abuses at an ICE detention center for undocumented immigrant children.
The Greatest Beer Run Ever | Feature Film | Sunday, 2:35pm
(126 minutes, plus a special post-screening conversation with John "Chickie" Donohue)
Directed by Peter Farrelly, Co-presented by Tubby Hook Tavern
Starring Zac Efron, Russell Crowe, and Bill Murray, and based on the book of the same name following true story of Inwood's own, John "Chickie" Donohue, The Greatest Beer Run tells an Inwood man's story of leaving New York in 1967 to bring American beer to his childhood buddies in the Army while they are fighting in Vietnam. Guaranteed seats to Festival Pass holders and free single tickets based on availability on a first-come, first-serve basis online and at the door.
5th Annual Awards for Excellence in Filmmaking | Sunday, 5:00pm | FREE, all are welcome!
Join us in the Theater following the final screening on Sunday for the announcement of the Inwood Film Festival's Awards for Excellence in Filmmaking.
The Festival Spirit Continues on IFF+
Online only Festival Programming – On demand Sunday, May 28 through Sunday, June 4. Tickets on sale beginning May 8.
In case you missed anything, you can watch all the Festival films at IFF+, the online extension of the Inwood Film Festival. Our goal for IFF+ is to provide an alternative digital platform that celebrates, showcases, and enhances accessibility to the films of our fantastic local artists. Our hope is that these online festival screenings attract large and enthusiastic new audiences for local independent filmmakers.